INTSIKT 2019 is an annual international symposium where industry, academia and government institutions exchange knowledge and experiences within the ICT domain. The symposium is traditionally organized by the Faculty of Electrical Engineering University of Tuzla, Faculty of Electrical Engineering, University of Ljubljana and BIT Center Tuzla.
Recent developments of information and communication technologies bring momentumtoall aspects of the economy, education and everyday life. ICT field is one of the most exciting areas of employment for new engineering graduates. Such propulsive field of engineering opens many good career opportunities with high regional and global demand, although it demands continuous education and professional development.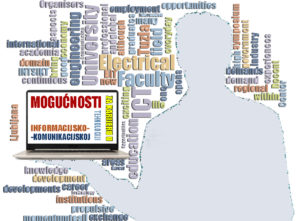 Faculties of Electrical Engineering from University of Tuzla and University of Ljubljana, together with BIT Center Tuzla, are active partners of Erasmus + project BENEFIT (2017-2020) that targets to connect ICT students with regional industry as well as to influence ICT studies in the region to become even more attractive for the future students. This year, InTsikt aims to disseminate BENEFIT project results and offer opportunity to companies in South Eastern Europe to present ICT career advantages and benefits.